Drinks to compliment your meal
Enjoy beers, wines, spirits, gins and cocktails – drinks to complement your meal or enjoy on their own with friends, family and work colleagues.
Wines
We have a range of both white and red wines together with sparkling Prosecco, Champagne and Rosé.
One of Steve's favourite expressions when talking about the restaurant is "putting the fun back on the plate". He's taken this a step further by "putting the fun back in the glass" with these wine offerings below!
Mad Mads Pino Grigio, Romania
A great Pinot Grigio, this has aromas of apple, peach and citrus. The palate is ripe and rounded with juicy and vibrant apple and grapefruit, and a clean and refreshing finish. The Winery has connections with Maddy's family, going back generations.
Steve's 'Fat Chef' Claret, Bordeaux, France
A medium bodied, classic black fruit lead red Bordeaux blend; personally selected by Chef-Owner of The Chequers at Burcot.
Beers & Ciders
As well as bottled beers, lagers and ciders, we offer local draughts on tap which are regularly changed so that you can enjoy a pint or two when visiting.
Gins & Cocktails including Mocktails and Dessert Cocktails
The worldwide rise of gin drinking popularity has resulted in a huge array of distillers offering many types of gins, with bespoke flavourings and botanicals and at The Chequers at Burcot, our gin menu has an all-round offering to cater for as many tastes as possible including non-alcoholic cocktails.
Our bespoke OX14 gin is an ultra-smooth and juniper-led, saffron notes abound through the nose and a touch of citrus from lemon peel and coriander add a brightness to the palate
If you are a cocktail drinker, we have a few that will tempt you into having more than one.
On offer too are malts, whiskies, bourbon, cognacs, rums, digestifs and coffee liqueurs.
With our range of drinks on offer, we are sure to have something to 'whet your whistle'.
Coffees & Teas
We currently serve Drury Coffee, which has over 80 years' experience of roasting gourmet coffees; it is perfect to enjoy anytime, including for rounding off a great meal. Or you might prefer a mint, chamomile tea or rooibos tea.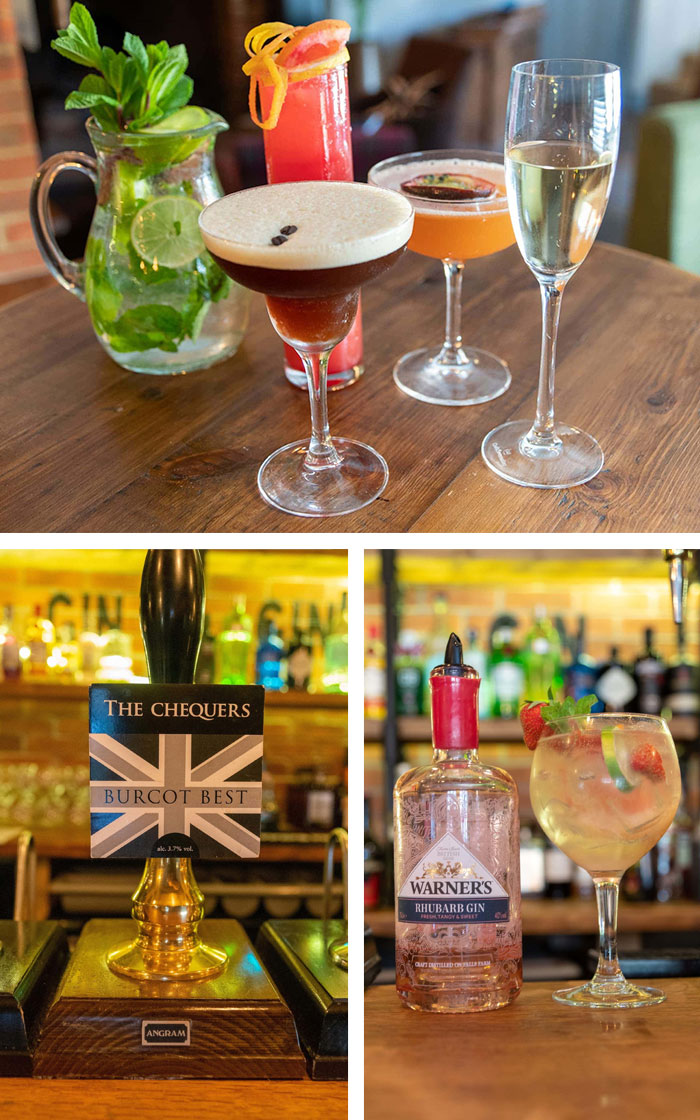 The first specific reference to The Chequers is in the Victuallers' recognizances 1791