Awards & Associations
The Chequers at Burcot are committed to delivering a superior customer experience and we are immensely proud of our awards and achievements and our partnerships.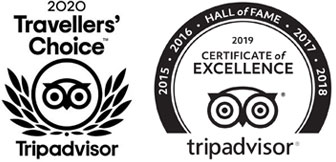 Tripadvisor
The Chequers at Burcot are delighted to be in Tripadvisor's Hall of Fame – this can only be achieved by winning Tripadvisor's Certificate of Excellence Award for 5 years in a row. This prestigious award is only received by the Top 10 businesses in the world and comes as a recognition of the high scores and positive customer comments received for The Chequers at Burcot on Tripadvisor.
Another feather in our cap is the Tripadvisor Travellers' Choice 2020 – reviews from millions of Tripadvisor travellers place The Chequers at Burcot Restaurant in the top 10% worldwide.

Food Standards Agency
Food hygiene ratings help you choose where to eat out or shop for food by telling you how seriously the business takes their food hygiene standards. The Chequers at Burcot are rated Very Good which is the highest rating possible.
OpenTable
The Chequers at Burcot are delighted to be the recipient of OpenTable Diner's Choice 2020 Award.  Thank you to each and every person who has given such positive feedback about their dining experience with us!

SquareMeal
SquareMeal is a market-leading independent restaurant commentator.

Harden's
Harden's Guides publishes user-sourced ratings and reviews.

Experience Oxfordshire
Experience Oxfordshire is the official Destination Management Organisation (DMO) for Oxfordshire and The Chequers at Burcot are proud to be a partner.

SOFEA Community Larder
This is a charity based in Didcot, with three key objectives: to reduce food waste, provide food to those in need through local charities and to provide training to those marginalised in the job market. The Chequers at Burcot donate 50p from every item on the food menu, marked with an * to the charity.

Oxfordshire LEADER funding
The European Agricultural Fund for Rural Development provided funding towards the delivery of 9 boutique hotel rooms at The Chequers Public House, Burcot, Oxfordshire.
The project helped deliver 9 individual en-suite rooms adjacent to the existing multi-award winning The Chequers at Burcot. The rooms opened in October 2019 and we are pleased to be welcoming local and international guests to the area to see all that Oxfordshire has to offer.
Name of Project: The Chequers, Burcot – Delivery of 9 new hotel rooms
Source of funding: European Agricultural Fund for Rural Development